Robot presenter and walkabout "Steve Machine"
With animated LED eyes and LED mouth
Steve Machine is a robot presenter with animated eyes and mouth made of LEDs. That gives him a retro charm. Whenever technical topics are presented, the guy is used. You can book this robot presenter. He is curious and likes to tell what he has just experienced or learned.
He has a voice, so your guest can talk to robot. You can use him as a presenter or as an interview partner.
Give Steve a character that fits for your event for example: "The new employee", "A satisfied customer" or "The new head of the IT department". He will act accordingly.
You can book or rent the Robot Presenter. No matter if your event takes place in London, Barcelona or Dubai.
The talkative robot is versatile and has many great suits in the closet. Depending on the occasion, he can change the colors. In addition to blue, red and violet many other colors are possible.
Welcoming and releasing the guests

Presenting and announcements on stage

Visualizes topics such as robotic, digitization and technology

Visual anchor and great photo motif

branding on the side of the head possible (70 x 200 mm)
Shoot a mail to stefan@we-love-robots.com and tell me, what you have in mind. I help you with some ideas how the robots can fit in your event and give you a fast quote. If you are in the hurry just give me a call 0049 (0) 174 – 569 80 90
"For our event we wanted an act that conveys the topic of" digitization ". At the same time, it should be emphasized that computers do not replace but support our employees. "Steve Machine" supported our Head of Sales as a charming co-host. With little gags he has shown that even robots make mistakes. A survey of our employees showed that this year's presentation was exceptional and very entertaining. "
"I would like to wear it myself!"
Presenting in german and english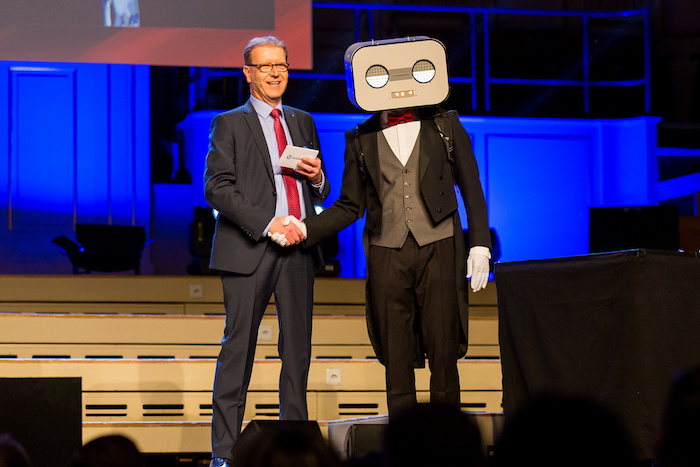 If a presenter wants to draw the attention to products, the speakers himself need attention. That's easy for Steve. As soon as he's on stage, people want to know what's happening next. The charming robot likes to explain something or announce the next act or speaker on stage.
Photo motif for your guests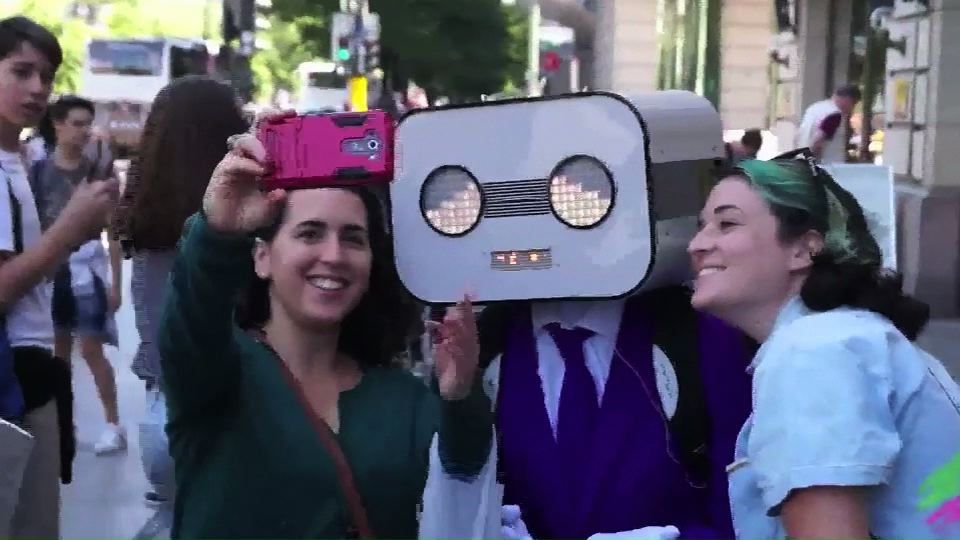 When the talking robot mix and mingles with the crowd, many funny situations arise. In the end you often hear the same question: "May I get a picture with you?" Fortunately, Steve loves camera light. Typical artist.
Get the attention on stage or at a venue with this robot presenter
Eyecatcher for technical topics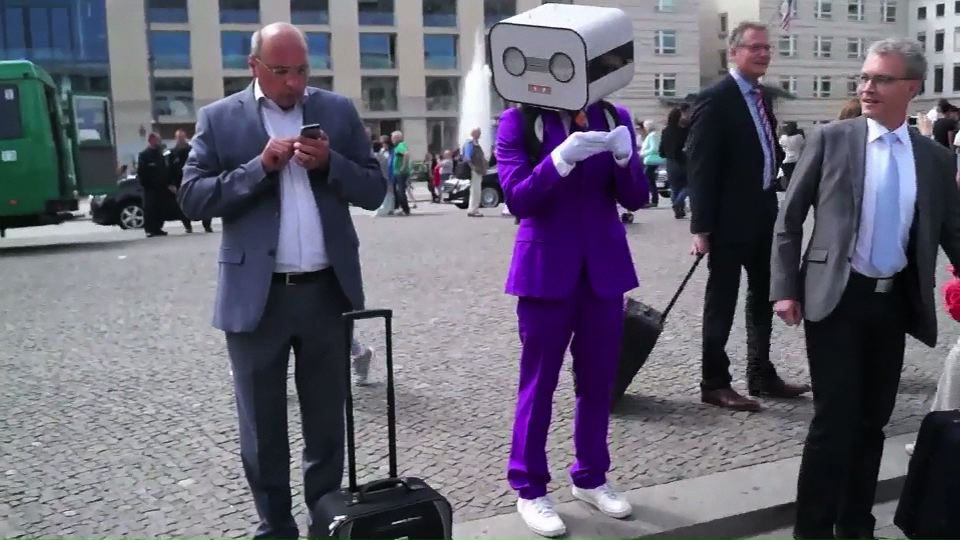 In advertising, events and fairs, Steve's customers need attention. Here comes an eyecatcher just right. Since Steve is a robot, his walkabout show fits technical and retro themes.
Colors to fit your event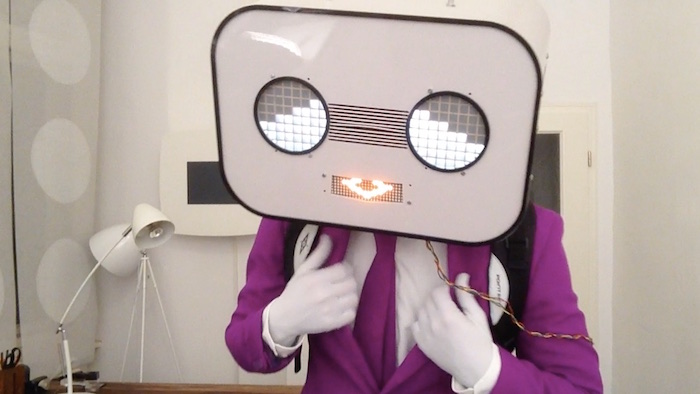 In Italy, you know that a suit always includes three parts: pants, jacket and tie. Steve is an old fashioned and just gets out of the house dressed. Depending on the occasion and event, he can focus on the topic or company color. In addition to many patterns, the colors blue, pink, orange, white, black, violet, green, light blue and red are possible.
Showmanship in a robot suit.
Get in contact here.
It's easy to rent or to book the steve the robot presenter. Write an e-mail to stefan@we-love-robots.com and tell me, what you have in mind. I help you with some ideas and give you a fast quote. If you are in the hurry just give me a call 0049 (0) 174 – 569 80 90