16 tested ways to bring more visitors to your trade-fair booth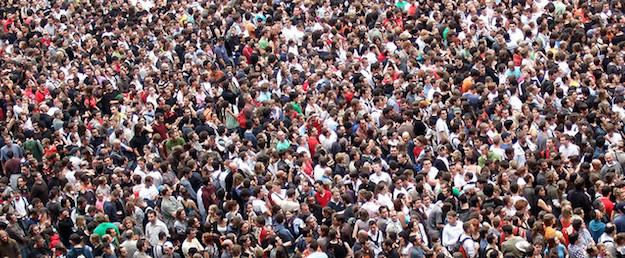 A trade-fair exhibition cost a lot of money. This only makes sense when an exhibiter can bring the maximum amount of potential clients to their stand or booth. There is a lot of competition. Because of that, here is a list of 16 proven ways to get traffic to your display.
Before going into detail, a word about prizes and giveaways: Prizes should be chosen that have something to do with your own product. Giving away a Samsung Galaxy only makes sense if you are selling Samsung products.
1. Raffles
Visitors fill out a card and answer a multiple choice question. Ideally, they have to inform themselves about your product to correctly answer it. Visitors know that the number of visitors at a professional trade-fair or convention is limited and the time frame for the raffle is short. It's important that the potential winners be required to return to the stand to participate in the drawing. This brings the exhibiter a further high point.
Even small prizes like coffee, a snack or WLAN access are valued prizes at a convention. Make the probability of getting a small prize 3 to 1. For big prizes 100 0r 1000 to 1. Visitors should be encouraged to return and try again.
2. Trade show artist and walkabout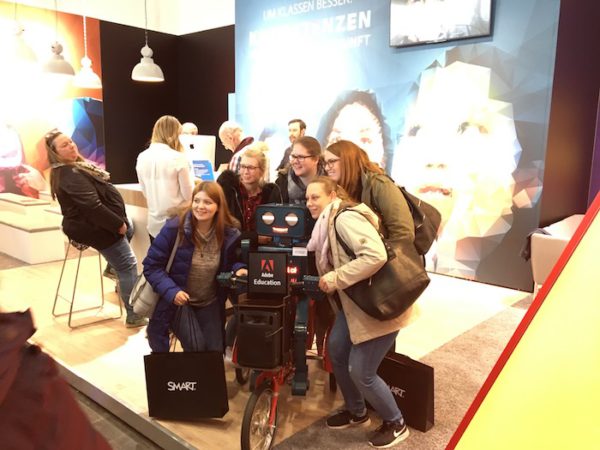 Walkabout are artists or characters who do not play a fixed show and are mobile. You can pick out a suitable Walkabout for your topic or adapt existing acts. Here's an example of an artist on digitization. Hugo the talking robot. (on the Didacta for Adobe) He keeps one on one conversation with the guests and can answer their questions because he is controlled live by a puppeteer.
A charaker as a doll or costume can be cheekier and more straight forward to the guests. After the ice is broken, a consultant can take over. So you can generate leads quickly and have an entertainment factor on the stand. Not to mention the social media opportunities because guest love to shoot selfies.
3. Skill competition
Oh yeah, everybody loves a challenge. Small games loosen the atmosphere and appeal to the egos of the convention visitors. The type of games chosen should emphasize fun in a way that nobody looks bad by participating.
Incorporate the product or brand name somehow into the game. At the SPS, a trade-fair for automatization technique in Nuremburg, an exhibiter set up a foosball table where a 2 person team played against a machine. This was a good example of getting people to interact with an application of their own control technique product.
4. Photo booths
Photo booths have been extremely hyped at conventions lately, yet remain a fantastic way to interact with potential clients. Different companies offer many different preconceived themes.
I'm a big fan of photo ideas that involve a company's products. Here one see's a variation Schroders Financial products used. It shows customers how they will look like in 30 years and thus the importance of fulfilling their retirement needs. Our robot also tried it out.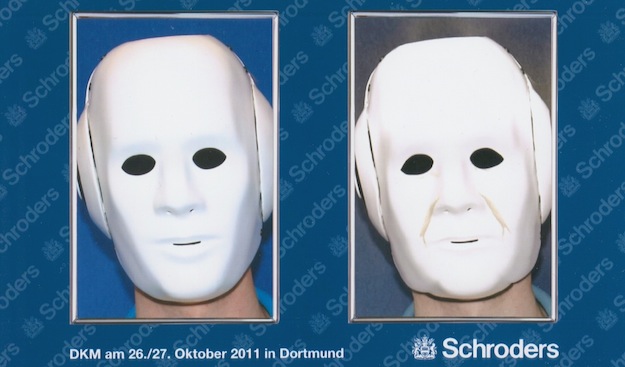 If you dont't want to go with the standard Photo Booth try the new "Mobile Photo Box". Its more entertaining and gives your Event more class:
5. Social Network Advertising
One can customize and focus their advertising on their target market with Facebook and Twitter. The message needs to mention what is in it for the customer. Highlights or other attractions like; "say, "Cocktail party" at our bar and you get a drink on the house" give a better impression than a typical approach of "we're cool, visit our stand."
6. Sharing Knowledge
Sharing information is a strategy that works quite well for online marketing. The customer gets an e-book, report or other informative product in their bag in exchange for their contact data and permission to be later contacted. This method also work offline as long as the gift given has some value. The document can be printed, on a USB stick or sent per email.
Pick up a copy of The Little Book of Stress at our booth and get a FREE massage while you're at it! #VISION14 pic.twitter.com/Af6TssxARH

— CCI Learning (@ccilearning) 21. November 2014
7. Free WLAN
Dependable internet access is often lacking at trade-fairs. I can count on one hand the number of conventions I've attended where the WLAN was reliable. Smart exhibiters take advantage of this problem and offer a working WLAN. Nothing is truly for free; one gives a voucher for the WLAN in exchange for clients contact information. As long as the exhibition location doesn't offer its own dependable free WLAN, you'll become the hero of the event. Promise!
Want to win wifi to go? Drop by booth SCL303 for a chance to win a @yourkarma. We'll also be raffling off a free personal branding package. — BrandYourself (@Brandyourself) 4. November 2014
8. Cell phone recharging
Orange Telecom from England often uses this strategy. Recently I saw this done at its finest at the Glastonbury Festival. The concert staff set up stations where one could recharge their mobile devises and even had to organize the lines of enthusiastic participants. This is a telltale sign of a working strategy. The customers were left in peace so they could work, drink a coffee or just charge their phone.
#nampc You've been recharging yourself w coffee. Visit @BeArtsReady booth btwn sessions & recharge phones! pic.twitter.com/5lFE5tDpO7 — Ivan Schustak (@btonetbone) 9. November 2014
9. Mini Seminars
We all like to learn things but the time is limited at an exhibition. Short seminars at your stand or booth are a good alternative. A good speaker can communicate complicated things in a simple manner. The speeches should not be longer than 15 minutes and should be very interesting for the target group. Thus better entertainment with an informative slant rather than just showing off a product. At the HMI, I listened to a short talk about live-hacking that was always well attended. The presentation space should be set up in a small place so that it appears popular even with only 10 participants.
If you're at #ncte14, enter to win a free Grammar Girl Skype lesson for your class. Visit booth 7/12/714. pic.twitter.com/dOn6n13nP1

— Mignon Fogarty (@GrammarGirl) 21. November 2014
10. Sampling
The holy grail of promotion marketing is to give out free samples. The customer thus gets a feel for the product. I'm not a fan of "just giving away." When the client has to do something for their gift it becomes more valuable. The main thing is that participants get to try the product and we get their contact information in return.
11. Presenting new products
Present your new products at a trade-fair and not beforehand. That's what such events are for! This is the main reason most people even attend a trade-fair. Use the opportunity and announce things in a big way.
12. Games
Why not make space for uncohearsed playing? Playstation, Wii and X-Box are good options for people to break the monotony of a convention.
13. Emotional product shows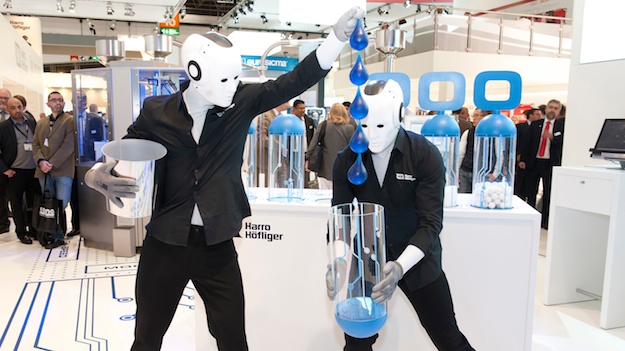 You see at this picture the show of the "Man Machines Robots" from Berlin who are great artist for technical and digitization themed trade shows.
On trade-fairs a lot of products will be similar in quality and price. It becomes difficult for customers to make an objective decision as to what is best. So why should you be measured by the same parameters? Products displayed in an emotional way strengthen the brand name and remain in the clients' memory. Most people swear that they make rational decisions but studies consistently show that they decide more on gut feelings.
Don't beat your customers to death with selling points. Better is to show off your product with an emotional appeal. Here are some examples of trade fair show.
14. Convention Parties
People do business with other people, not with firms. At a party one can get to know each other without stress. And that is the ultimate goal of a trade-fair or convention. If you want to focus on selected clients, make it exclusive by giving out invitations.
15. Pose Questions
Conventions are set up to send out signals. I'm the biggest, the fastest, the best. Visitors are bombarded with piles of thick brochures and useless gifts. Why not turn the table and ask your customers their opinion on certain subjects? The marketing research department thus not only gets customer input but allows them to be heard and influence decisions.
16. Invite present clients
Strong customer relations are still the business strategy of choice for competitive markets. It's 5 times more difficult to win a new customer than it is to retain a current one. Invite your present customers let them know what to expect. They'll feel honored and pass on information that they know through experience better than others. Or invite new clients:
Here: "Guarantee your free CeBit visitor invitations and stop by Schneider Electric in hall 11, stand D62."
Sichern Sie sich Ihr kostenloses CeBIT Besucherticket & besuchen Sie Schneider Electric in Halle 11 Stand D62 https://t.co/NB9jBHT1

— IT Connection (@IT_Connection) 10. Februar 2013
Bonus Tipps: Offline Likes
This approach is interesting because it relates online and offline strategies. Visitors can give a like in person at the event. This makes sense if you are already active in social media marketing. Companies like Likify turn this concept around and put a "like button" on real objects.
Here is a video how Renault used this strategy:
In Summary
Make your trade-fair exhibition a great experience. Just bringing people to your booth is one thing. To integrate them is more important. Free pens and a couple of sales people won't convert them to clients. They take the gifts and stroll on. Sale personnel who chat about private matters or on their cell phones make a miserable impression.
See that every potential customer goes home with a good experience or interesting discussion.
How do you get customers to your exhibition? Leave a comment!
Foto: James Cridland Bestimmte Rechte vorbehalten[/fusion_builder_column][/fusion_builder_row][/fusion_builder_container]