The 8 best digital themed artists (event ideas)
The world is changing, which is why "digitization", "work of the future" and "Industry 4.0" are all over trade fairs and events. So all you need is a matching artists to bring the mood of this theme to your event. I show you the 8 best digital themed artist and explain where to use them on your event and how you can stage moods with a robot. You will also learn how to attract visitors to your booth.
Artist digitization for event and fair
There are many ideas for artists for digital themed events. In addition to classic robots, for example, you find the suitable act for all occasions:
Robot Announcer (Steve Machine)
iPad magician / illusionist (for example Andreas Axmann)
LED juggler (for example Christoph Rummel)
Visual Comedy with LED cylinder (for example The Comedy Butler/ Bell Boy/ Page)
talking Robot (Hugo the talking Robot on his bike)
digital iPad Caricaturist
Big Robot (for example Titan the Robot )
humanoid Robot (Man Machines)
I'll go a little closer to the robots.
What can robots do at your event? How can guests interact with them? You will find various applications on how to use robots and artists for digitization at your event.
Welcoming / signpost / queuing up entertainment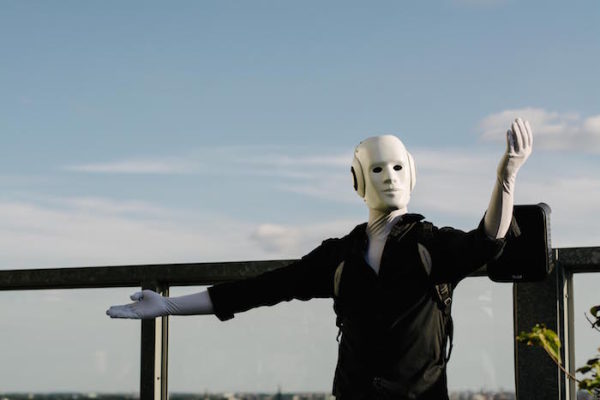 Welcoming the guests is one of the most important moments of an event because it sets the tone for the rest of the entire day or evening. The topic of digitization can be a recurring theme throughout the entire event.
The Welcoming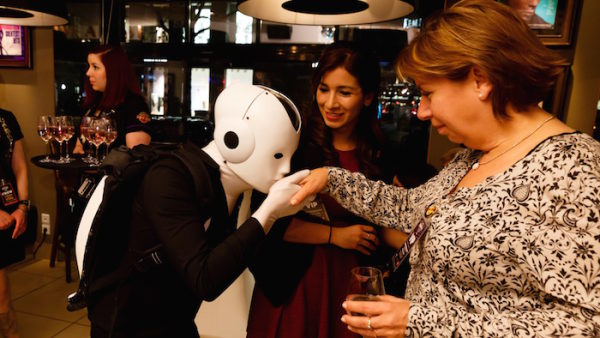 If you like to welcoming the guest, all types of robots are fitting. Our Man Machines (german Maschinenmenschen) standing next to the entrance, for example. They give the ladies hand kisses and the gentlemen "High Fives".
If you plan to welcome the guest with wine or champagne, the humanoid robots support the service staff and serve drinks or hand out snacks. This can also happen during the event. You stage the impression: "The future has already arrived with us. It is quite normal that robots living with us and serve."
Robot as a guide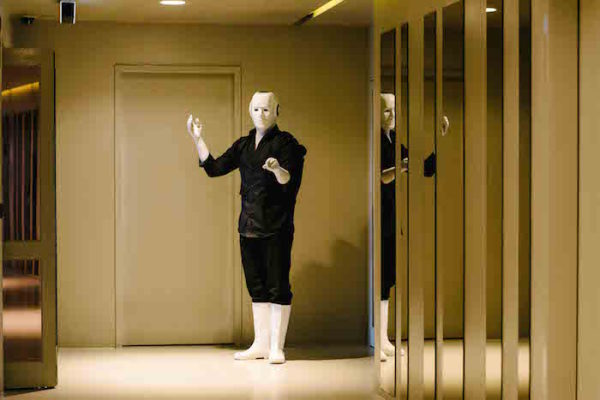 If the venue is a little twisty or the guests have to walk a long way, the robots act as signposts. With signs arrows and hands they show the way charmingly.
Entertain queues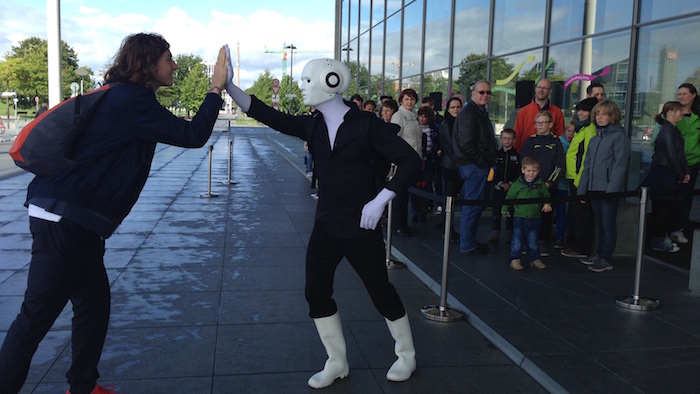 Nobody likes to wait, whether it's for accreditation or when the guest are queuing. You can break this unpleasant experience by offering entertainment to your guests.
It does not have to be a big show, but something that distracts from waiting and entertains. Especially when families are traveling with children. If artists entertains a queue, the organizer enhances the visitor experience of parents, children and all visitors present.
product presentation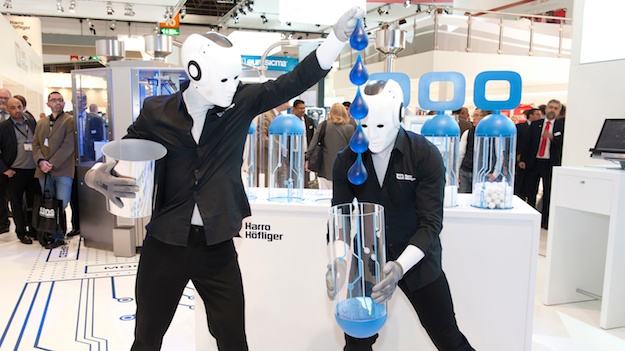 Products are usually presented live at trade fairs or roadshows. It is important that products are emotionally charged. Especially for products that are not sexy.
An iPhone sells on its own, but complex machines, toiletries, or software benefit from presentations. Even difficult topics such as incontinence products (diapers) can be presented in a nonverbally excellent way: Here is an example:
Products and processes requiring explanation. That can be visualized with a show. While watching, a connection from product to the product category is established. Showing is more effective than telling.
We have to link the problem – with solution (product)
We need to associate the "Product Category" with the brand (Kleenex – Handkerchiefs)
Link the solution to the brand (especially for products that differ little from the competitor)
Employee and company party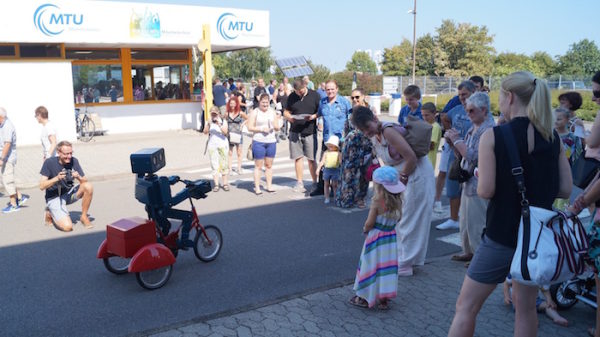 At a staff party or company party, the management not only says "Thank you for your efforts". Here you can tune your workforce, suppliers and partners for the future. "Digitization" and the "work of the future" is not only a concern for the company, but for everyone involved.
Robots and artists stage this mood. Here are the possibilities:
Stage shows at company parties
Most artists have fixed programs, which usually take between 3 and 60 minutes. Often, the message of the evening can be integrated. Longer is not always better. At staff parties and company parties, we have no classic theater situation.
The guests are not coming for the show. People come and go. The attention span is lower. Good event planners adapt the program to this situation.
That's why shorter blocks are useful or you can split a long program.
Strolling Acts for company parties
Walkabout artists welcome the guests and mingle. This creates small intimate situations that respond to the circumstances at the moment. Since everyone has a cell phone with them, most photos and videos are shot here. The guests have their personal moment.
Robots and artists for fair
At a trade fair, the requirements are different than at events with invited guests. Attention matters at fairs. You want to either present a product, generate leads or establish the brand.
iPad magician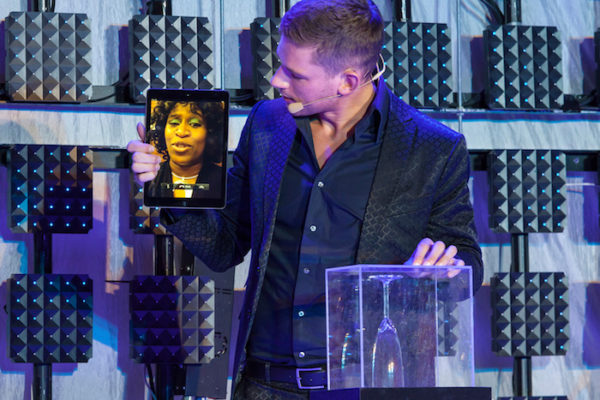 An iPad magician like Andreas Axmann inspires his viewers with special effects on digitization. This can be in the form of a "show talk" or as a close up from table to table. Interesting are digital-real effects with the iPad. This means that real objects in the iPad become visible on the screen or reappear from the screen as a real object.
The interactive show presentation is suitable for companies dealing with digitization. The iPad magician makes skepticism about new media disappear and provides variety in the congress program.
iPad magician as stand-up (stage)
The illusionist makes articles ordered from his iPad appear on websites and trickle sand from holiday pictures. The tablet effects can be supplemented with "real illusions". For example, a notebook floats or there is a prediction with a smartwatch. A smartphone loaned by the viewer suddenly reappears in an impossible place.
iPad magician as close-up (table)
An iPad artist can also play as a walk act with the guests – interactively and directly at the table. With the iPad mini he shows a smoking digital cigarette or a virtual but really working outlet. My favorite trick is the spoon, which will knot first in the display and then real.
Transfigurable robot for different professions "man machine"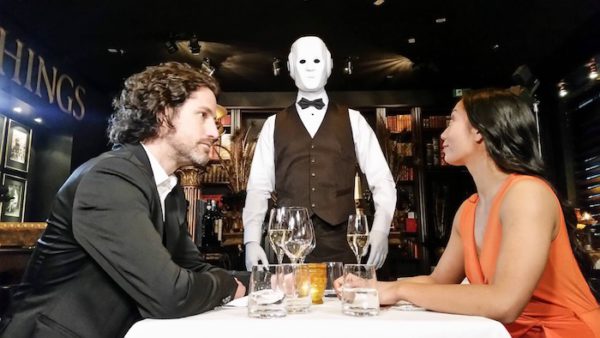 The Man Machines are in their appearance neutral humanoid robots. You can give them any character you want. A costume or work clothes helps. Small props are sufficient:
Construction helmet (safety)
white coat (medicine or science)
Shirt with bow tie (service, waiter)
Specific workwear such as carpenter, postman or in a blue collar
Here you see the machine people in action.
You see how interactively the machine people act in this exhibition situation. That makes the theme of technology tangible.
Talking robot "Hugo on his bike"
Hugo the talking robot is a remote-controlled and live-spoken robot. He is on his bike and I am talking to the guests. An attention magnet at trade fairs and events.
Hugo is cheeky and that's a good thing, because the audience is curios. He patiently answers questions. Hugo has an answer to every question. (sometimes he is right)
The guests can not only shoot pictures with him but also take their personal greeting message home with them. After a briefbriefing Hugo greets the wife, mother or colleague and adds a few funny sayings. The guest love to record this little videos and send them over to their friends and family.
Of course you can also provide Hugo with your logo.
Robot Presenter and Walkabout "Steve Machine"

At the (fair) edge of the stand
A talking robot for the stage or booth is "Steve Machine". So you have a robot who moderates and talks to the guests. As an artificial character, he can address visitors and bring them to the exhibition stand. This can not be done by a hostess or an employee.
Once the visitor is at the booth, a consultant can take over and write the lead.
Before the presentation
When presenting at a trade show, you first have to organize your audience. A fixed schedule helps. The daily routine should be visible to everyone.
If the presentation is not known and popular, the moderator starts with zero audience. But there is a solution: The "Preshow"
A "preshow" is the show before the show. It serves solely to get enough audience, so that the actual show (presentation) can be started. Every street artist who plays a circus show starts with a preshow.
The critical mass of viewers is crucial. If you have enough audience, more people are added. If you start with few spectators, this will not change during the presentation or only slowly. The preshow provides the initial spark.
Steve Machine generates attention in front of the stage. The character and interaction with the guests is so interesting that people stop. A short transition and the presentation can start.
LED Luminous Juggling
The technology and digitization is finding its way into juggling. LEDs can now be installed in various ways in various juggling props. The LEDs can be programmed by computer software and can be controlled by wireless technology. The audience then sees on the stage a fascinating play of light created by the spinning and flying juggling balls, sticks and clubs.
To make the whole thing even more multimedia-based, light jugglers like Christoph Rummel work together with a video artist and the show is projected on a screen in real time and supplemented with so-called light painting (light painting).
Robots for film and advertising production
In documentary films and advertising productions, performers who play robots are frequently searched for. Maybe you are looking for an humanoid actor or something like this. Especially the topic of humanoid robots and machine people is becoming more common. Luckily, we already have a matching robot costume. With this robot costume you can shoot scenes quickly and without computer animation (CGI).
That makes it easy to use a robot in film and advertising.
Here is an example of the humanoid robot "Machine Man" for an Investment Summit in the Cayman Islands.
Digital artists for cultural events and street theater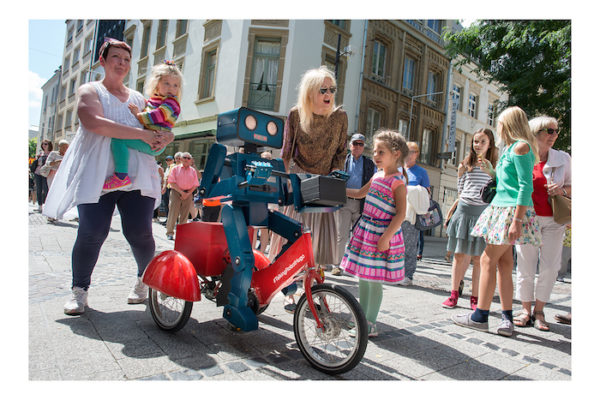 Events in the cultural sector are increasingly exploiting the effects of the show industry.
Here is the reason: they quickly gain the attention of visits and can later take more care of the content. That's why you can find more and more show acts as a headliner for street theater festivals.
The process is similar to events, because visitors love the one-to-one interaction.
This is what makes the attraction of street theater, because the distance between audience and artist fades. A member of the audience quickly becomes part of the show.
Robot for Festival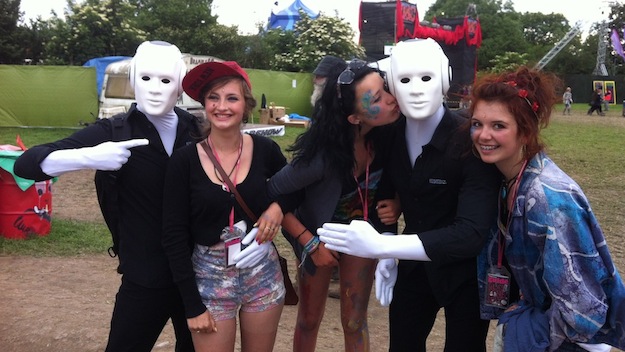 Walkabouts and big effects have long been part of festivals. Sometimes visitors are not sure if the act is a creative guest or a professional artist. This has something wild and unpredictable.
The Man Machines play at small festivals like the Southside or at mega-festivals like the Glastonbury in England.
Visitors seek their own experiences and document everything with their cell phone cameras.
Artist for party (with LEDs)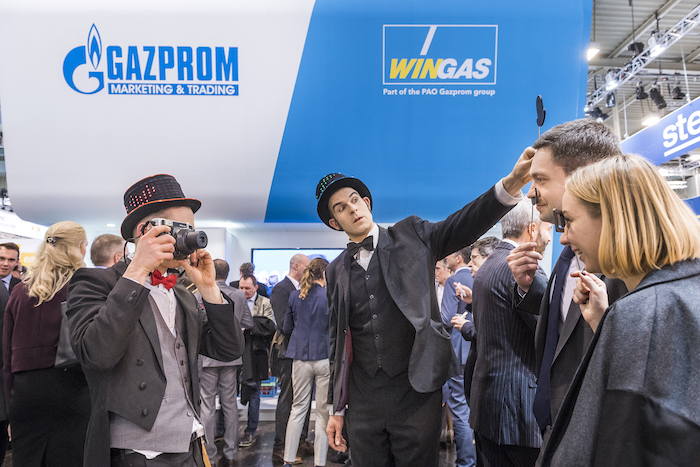 The best for last: the party. There are different formats where you can use robots and party artists.
A bestseller is the "Mime Gentleman". These artists can change their costume and appear either as page or butter. They have their LED hats on digitization. An illuminated sign can run on the LED hats. Here are the LED hats in detail:
If you're in a really good mood, juggle them with LED balls.
They have their own mobile photo box (Photo Booth) with beards, glasses and Batman mask. The mimes stage a photo with the guests. These are developed in 2 minutes. (Polaroid).
Photos: Photo 2 Andreas Axmann