Robot for hire for event and trade show
1. humanoid robot for hire: "Die Maschinenmenschen"
Whenever abstract topics such as "future", "technology" or "digitization" are to be visualized, the "Maschinenmenschen" (Man Machines) are used. And yes yoda would put it like this: "The robot for hire it is." There is not only one available. You can book up to 4 robots.
You can project different topics onto a machine person. If you give him a suit, he becomes a waiter. If you give him work clothes, he becomes the employee of the future.
The Man Machines move like real robots. They are warm, cordial, sometimes in love and very playful. Guests can interact with them or just watch from afar.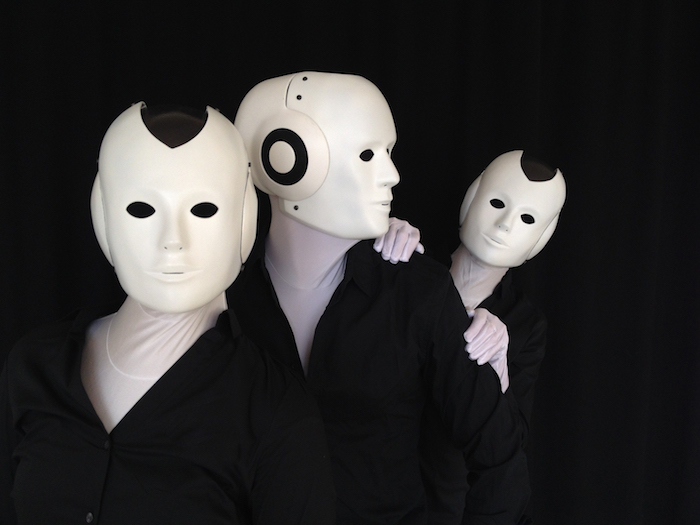 They visualize your topics such as digitization, future and technology

welcome and say goodbye to guests

Present products or draw attention to the desired point

branding possible on the backpacks

based in Berlin, performing worldwide
2. Hire Hugo the talking robot
Hugo is an interactive remote-controlled robot doll that interacts with passers-by and guests.
If you would like to have profound conversations, the little guy is in the right place. Well, almost, because the little robot is quickly distracted – by blinking things and everything that looks like a machine.
Hugo is a child's favorite, heartthrob and photo magnet.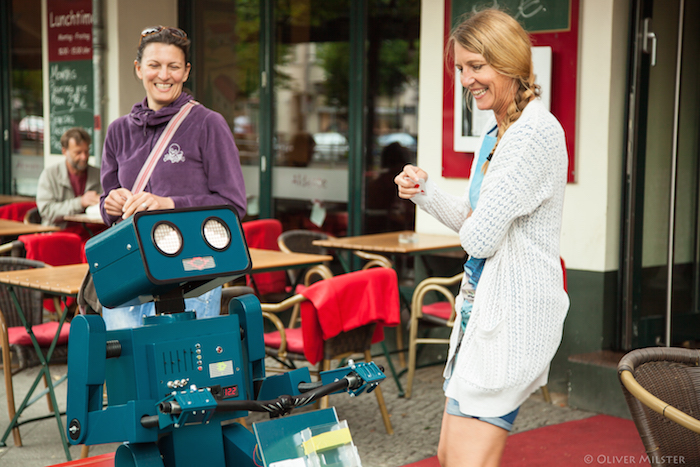 Real "one on one – talks"

Suitable for children and adults

Tell something about your product or idea

Rides a bicycle, moves his head and talks

Branding on the handlebar possible

At home in Berlin. Can be used in Germany and neighboring countries.
3. Steve Machine – Presenter and Walkabout
Steve Machine is a robot character with animated eyes and mouth of LEDs. That gives him a retro charm. Whenever technical themes are presented in a sympathetic way, this guy comes into action. He is curious and likes to tell what has just been experienced or learned.
Steve is versatile and has many great suits in the closet. Depending on the occasion, he can change the colors. In addition to blue, red and violet many other colors are possible.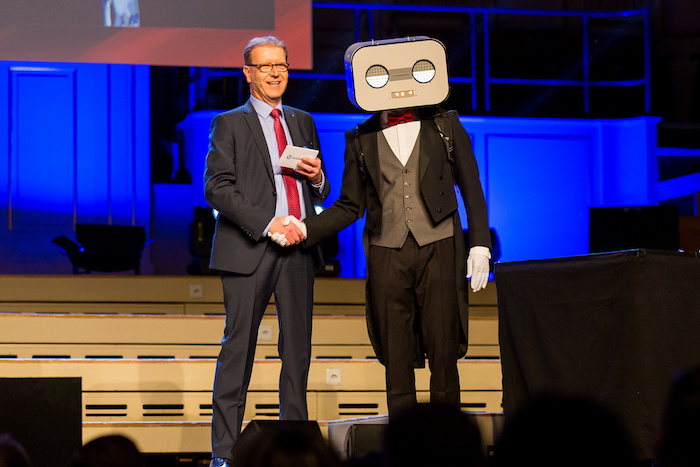 Real "one on one – talks"

Suitable for children and adults

Tell something about your product or idea

Branding on the head possible

based in Berlin, performs worldwide
4. Oscar the robot
Oscar is a retro robot. He rides over your event and stays with the guests. He has chocolate or other giveaways to give away.
Wherever the event may be, Oscar will be there. He performed everywhere already: UK, Europe or worldwide. You name it.
In addition, Osacar tells something about your product or can be photographed with your guests.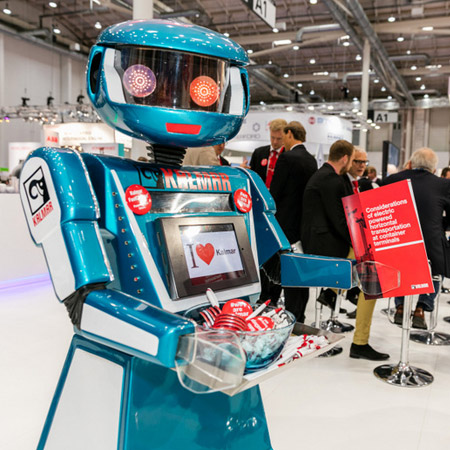 Real "one on one – talks"

Suitable for children and adults

Branding on the head and body possible

Based in UK, performs worldwide
Hire your robot here
Write an email to stefan@pantomime-popkultur.de and tell me what you plan to do. I will send you a non-binding offer. For urgent information you can reach me under 0049 (0) 174 – 569 80 90
If you have more robots that should appear in this Arcticle. Please share so i can put it in.